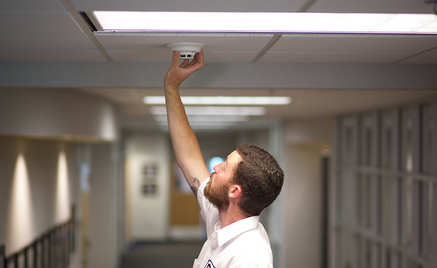 A fire alarm system is a mechanism of different interconnected devises and components used to alert us in case of emergency especially fire to protect the staff and general public by taking appropriate actions. The system warns people when smoke, fire, carbon monoxide or other fire-related or general notification emergency emergencies are detected.
Alarms may be activated automatically from smoke detectors and heat detectors or may also be activated via manual fire alarm activation devices such as manual call points or pull stations. Alarms can be either motorized bells or wall mountable sounders or horns. They can also be speaker strobes which sound an alarm, followed by a voice evacuation message which warns people inside the building not to use the elevators. Fire alarm sounders can be set to certain frequencies and different tones including low, medium, and high, depending on the country and manufacturer of the device.
NEECOM deals with some renowned brands like Zeta, Kiddie, Apollo etc. which has the conformity of CE, FCC, UL to ensure the quality and effectiveness of the products.